SECURITY FULLY REDESIGNED.
RAPID-ACCESS TO YOUR FIREARM WHEN YOU NEED IT THE MOST.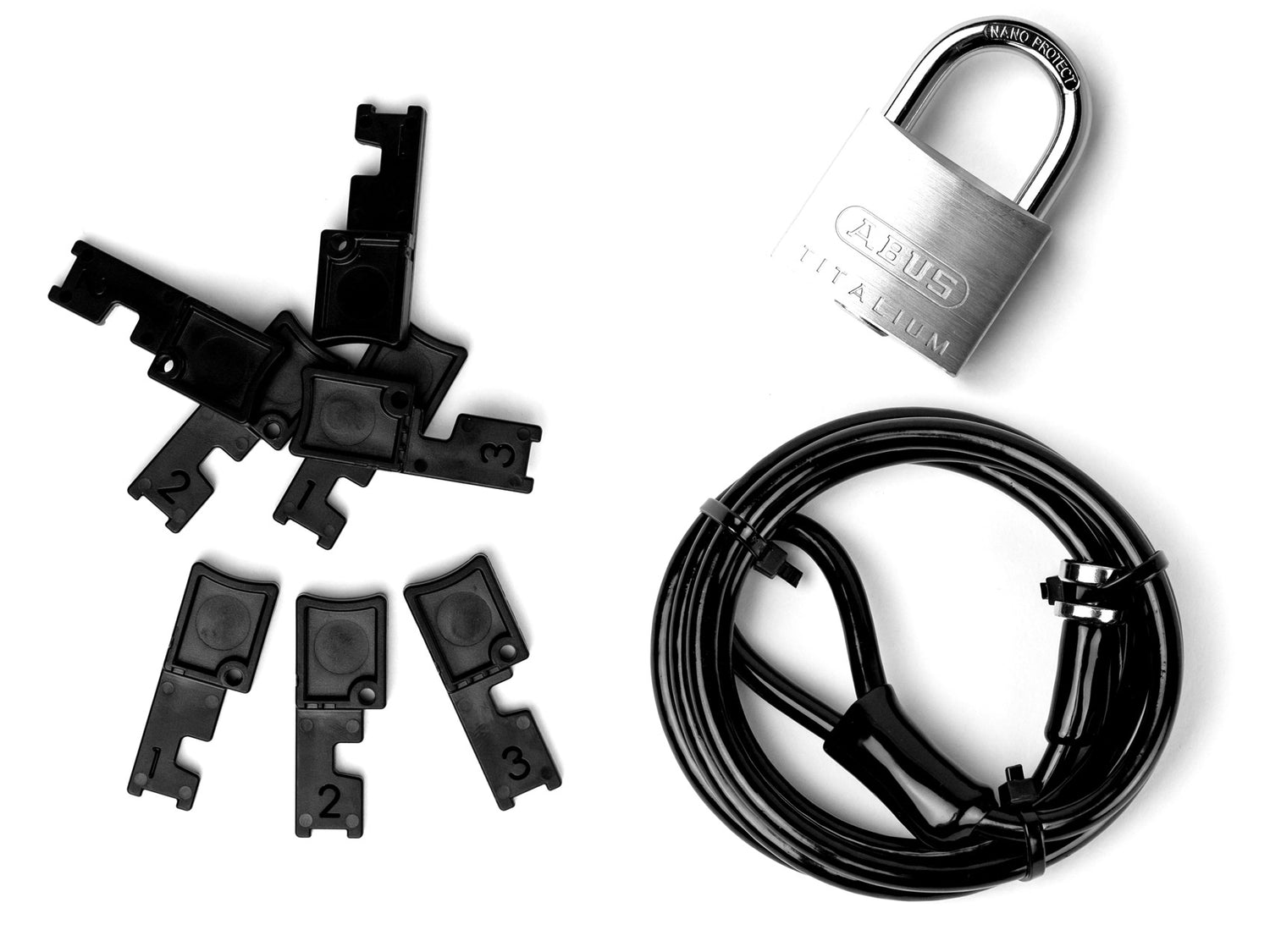 MORE WAYS TO SECURE.
• Up to 81 combination possibilities
• Padlock compatible
• Security Cable compatible
• TSA Compliant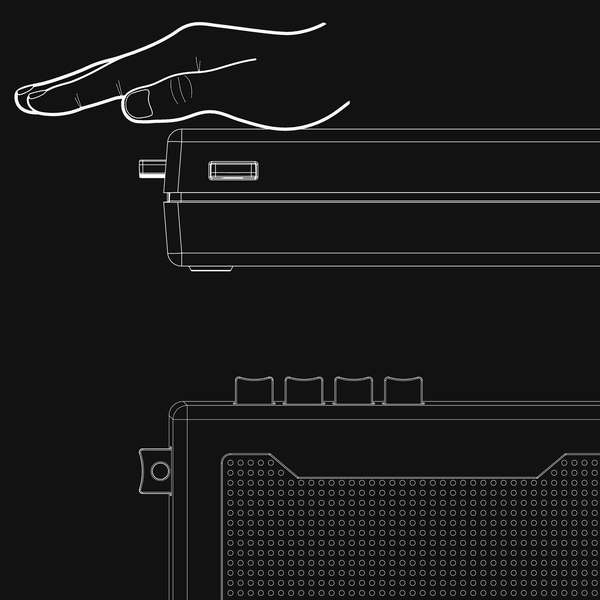 HOW IT WORKS
1. Press down on the lid
2. Press your finger combo
3. Press the thumb lock
4. Lift the lid open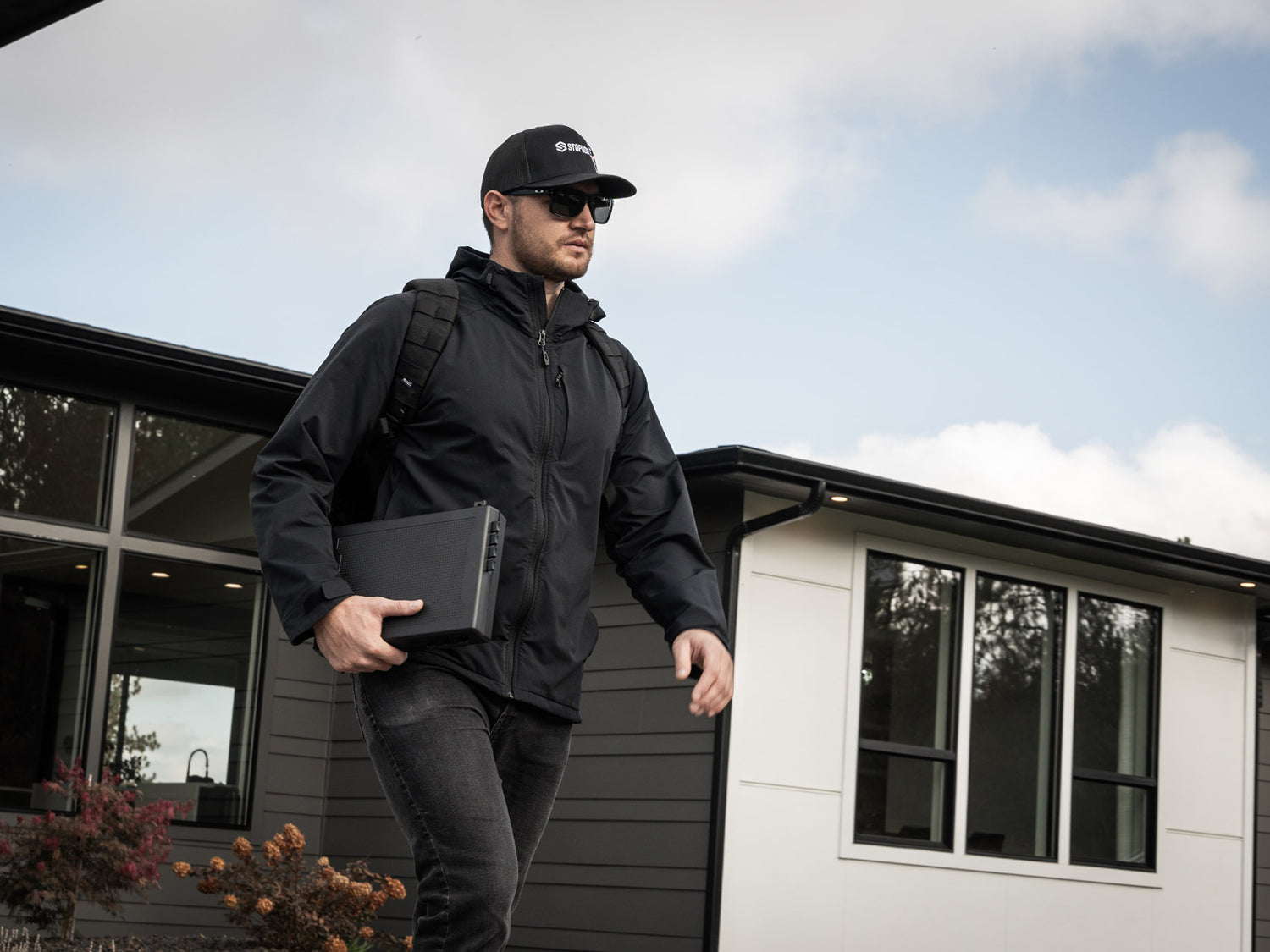 PORTABLE & WHERE YOU ARE.
Our lightweight and low-profile design allows you to travel effortlessly when you need to.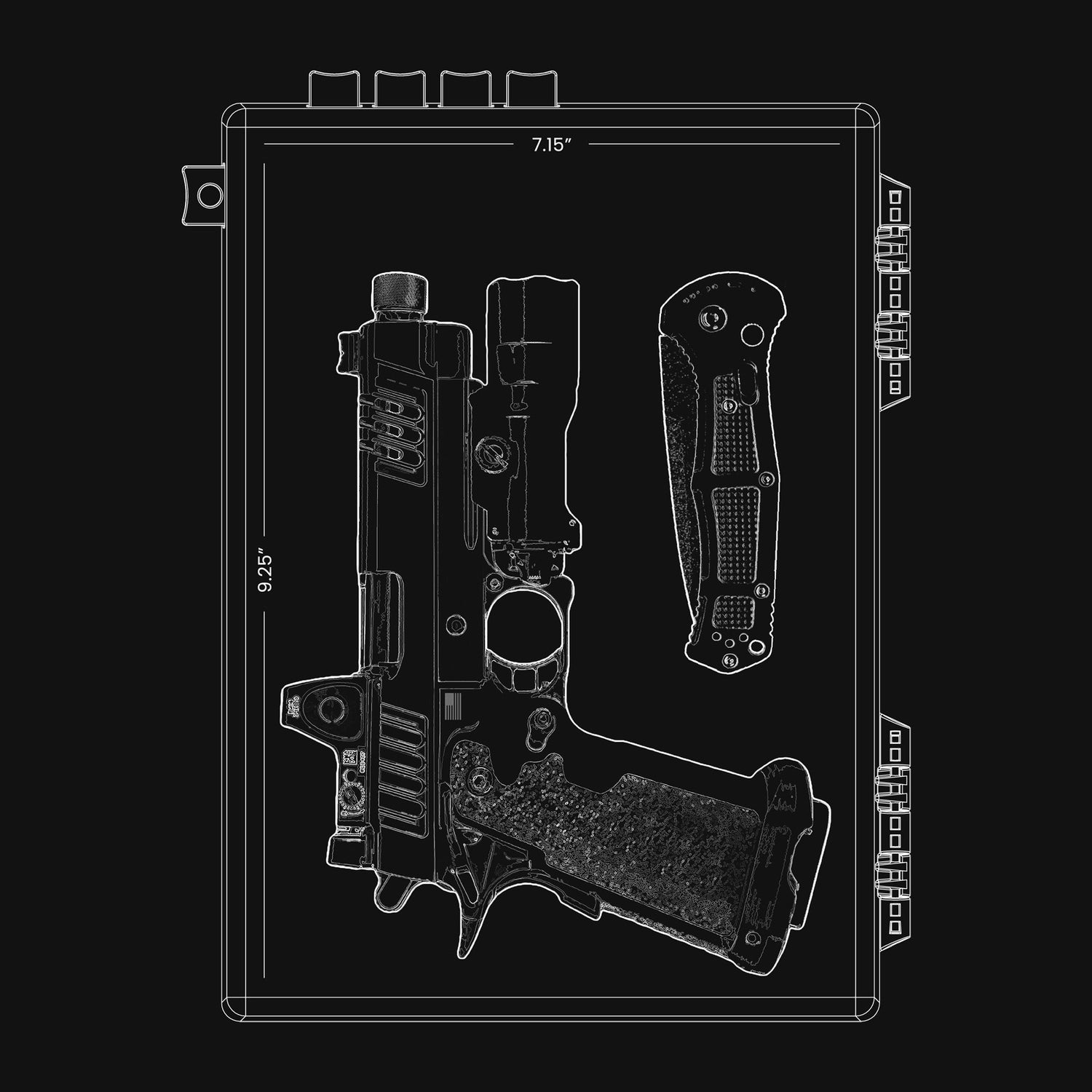 LARGER = MORE FIREPOWER.
Fits full-size pistol with red dot and weapon light.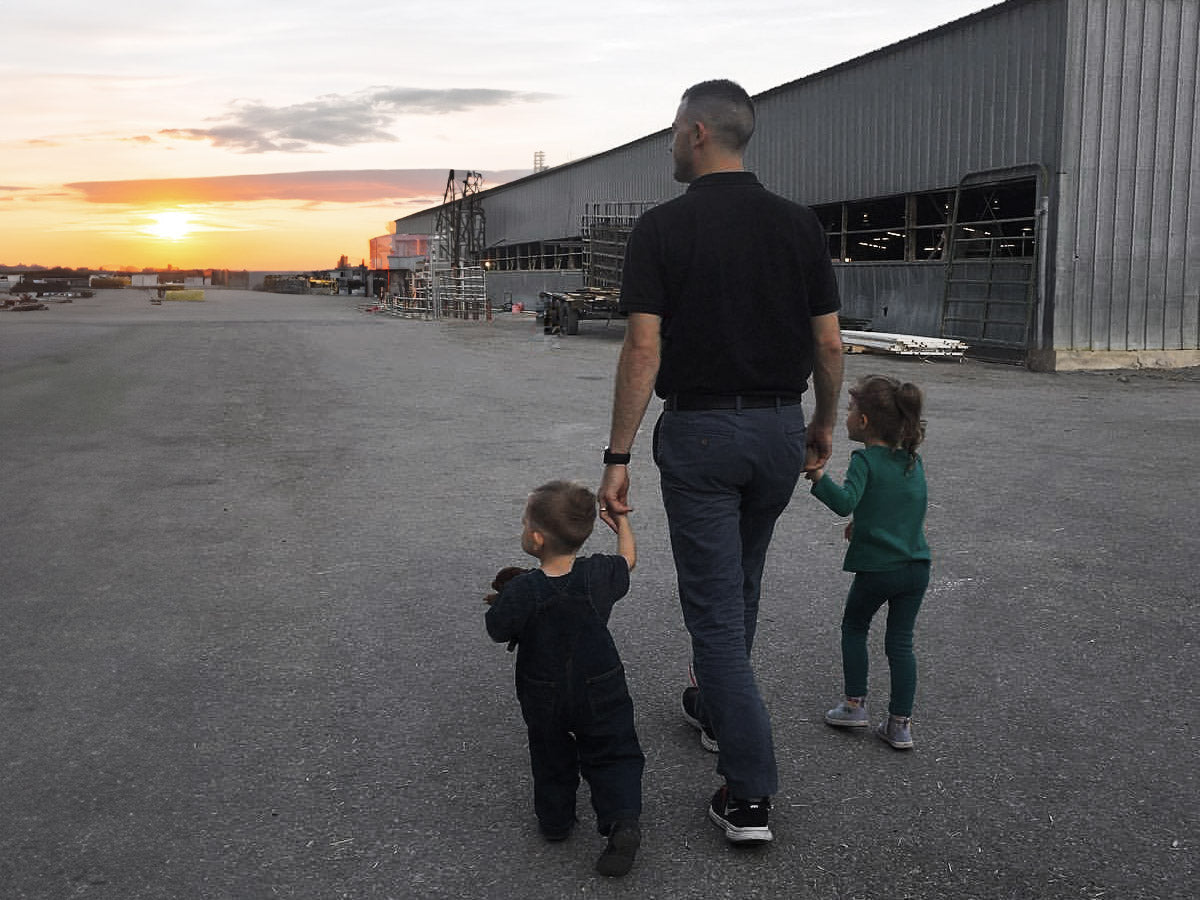 FAMILY-OWNED & OPERATED
StopBox USA is rooted in traditional family values. Today 6 of us Ervins are a part of daily operations alongside our dedicated team.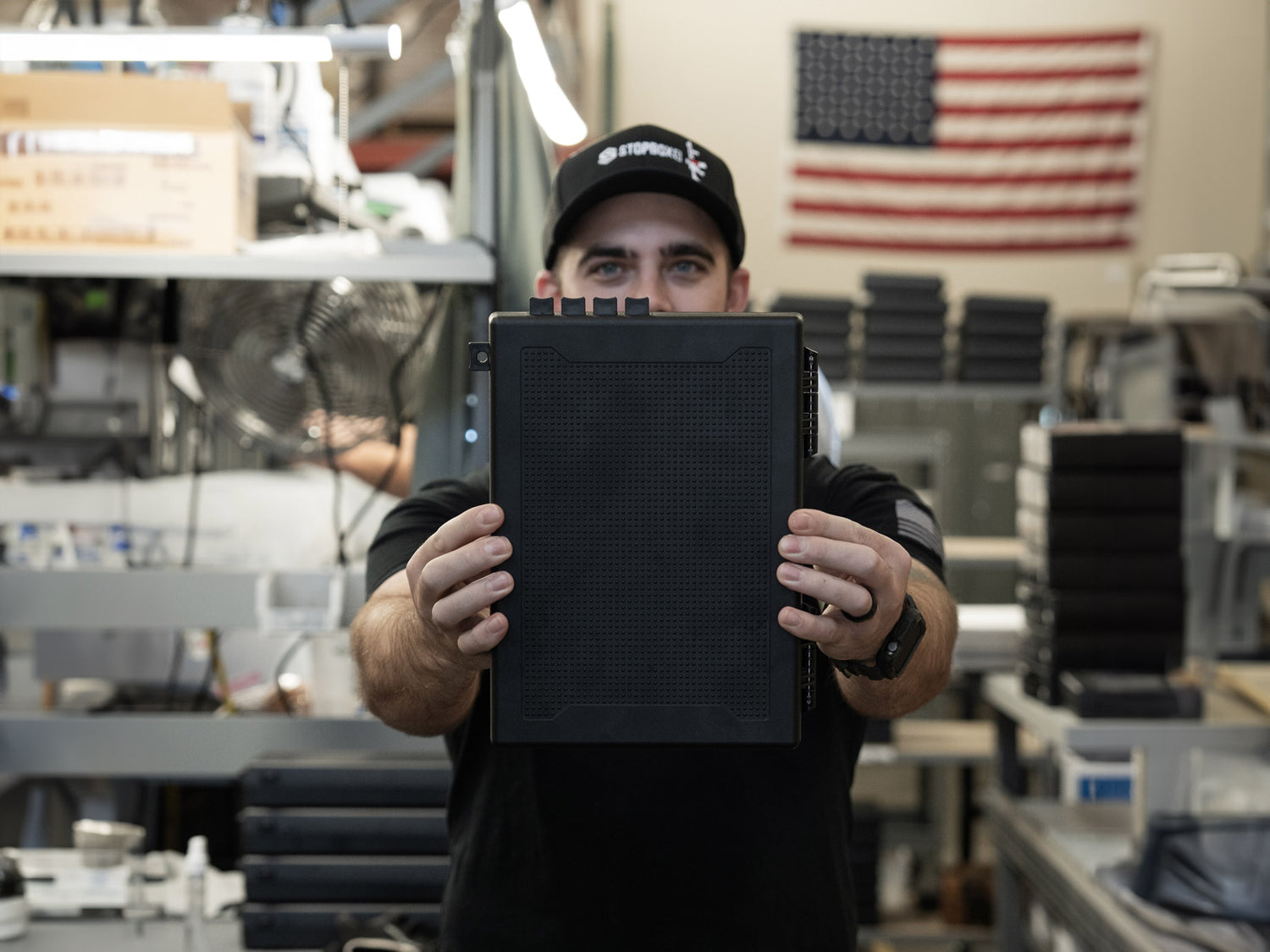 MADE IN THE USA
Proudly creating American jobs, we make the StopBox® in our own facility in Spokane, Washington.

WHO USES THE STOPBOX?
200,000+ gun owners including many professional protectors use the StopBox® everyday.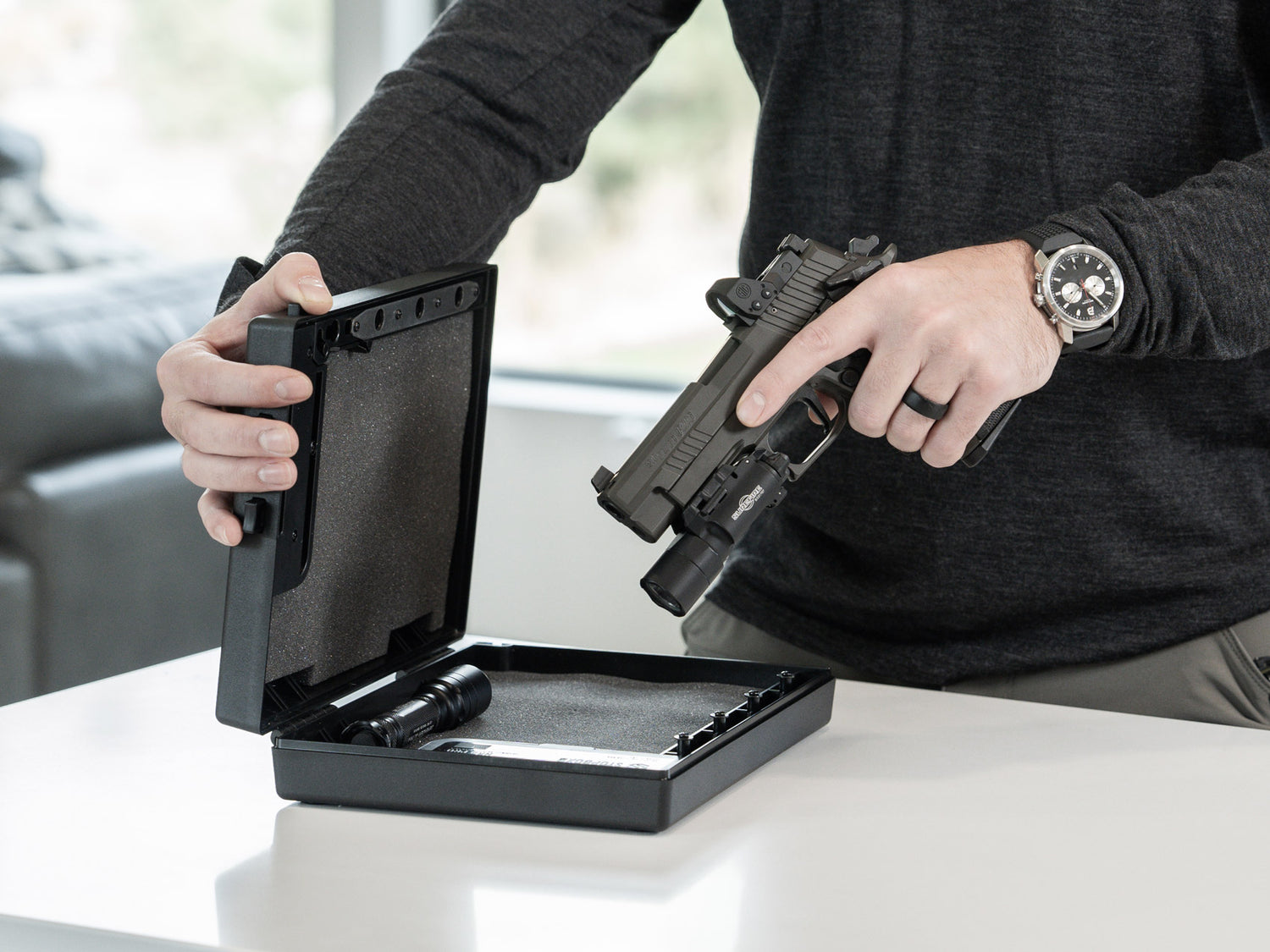 LEFT-HANDED?
"I'm left handed and it's easy to use my right hand to open and my left to grab the gun."
- DAVID JACKSON
Regular price
Sale price
$149.00
Unit price
per
Sale
Sold out
✔ FAQs
FREE SHIPPING AVAILABLE

When you sign up for our newsletter.
30-DAY RISK-FREE TRIAL

If you are not fully satisfied contact us within 30 days of product delivery and we'll issue a full refund upon the return of your order.
CURRENT LEAD TIMES

Orders typically ship same or next business day. Due to current manufacturing delays, we are expecting the StopBox to ship in 2-3 weeks.
DIMENSIONS

Interior: 9.25" X 7.15" X 1.75" Exterior: 11.5" X 8.5" X 2.25" Internal storage compartment: 5" X 1.5" X 1"
COMBINATIONS

Select between 6 of the 81 possible combinations with the included hardware, or access all 81 with the Expansion Pack.
CONSTRUCTION

The StopBox® Pro is constructed of high-impact resistant glass-reinforced polycarbonate-ABS.
MADE IN USA

We make the StopBox® in the USA in our own facility in Spokane, Washington.
View full details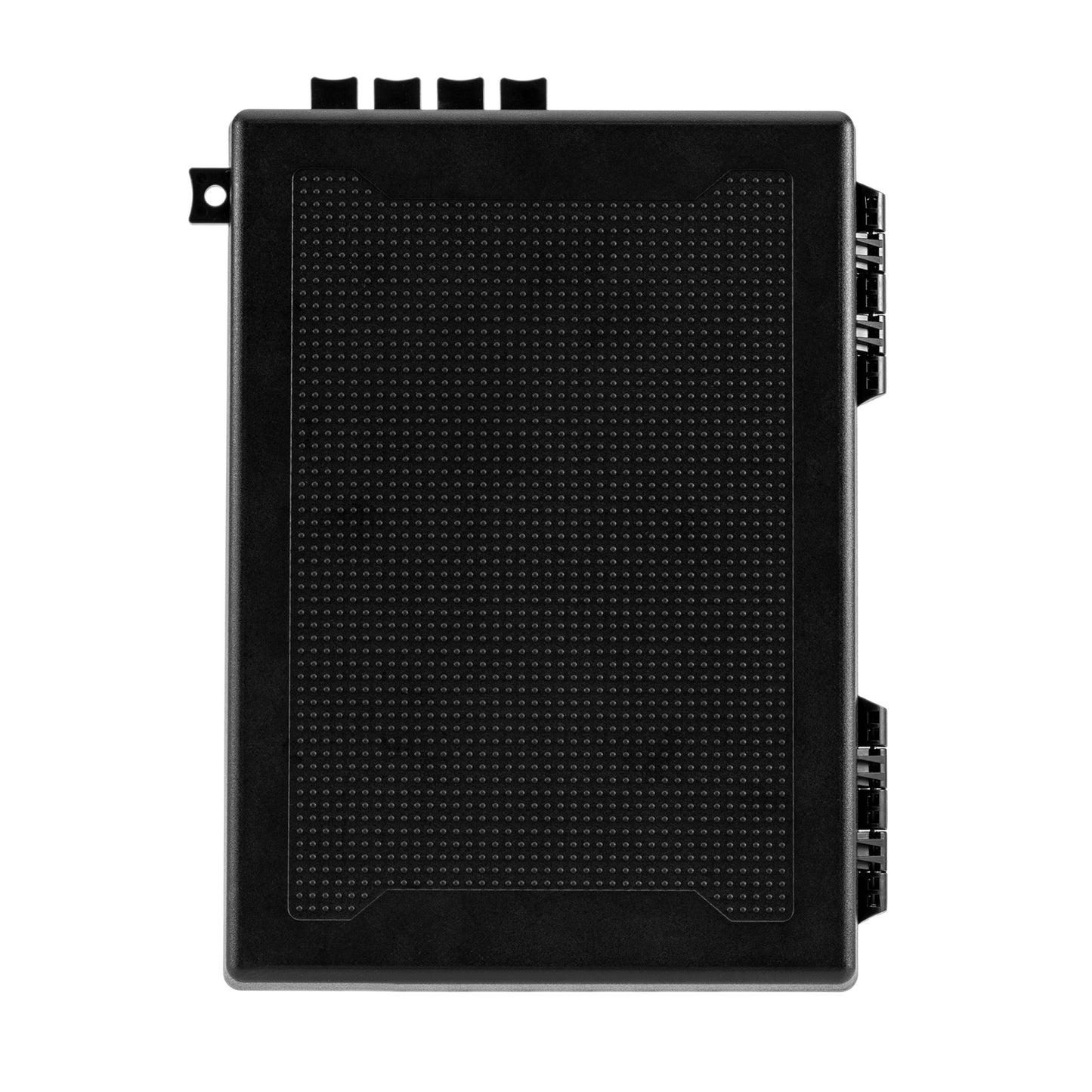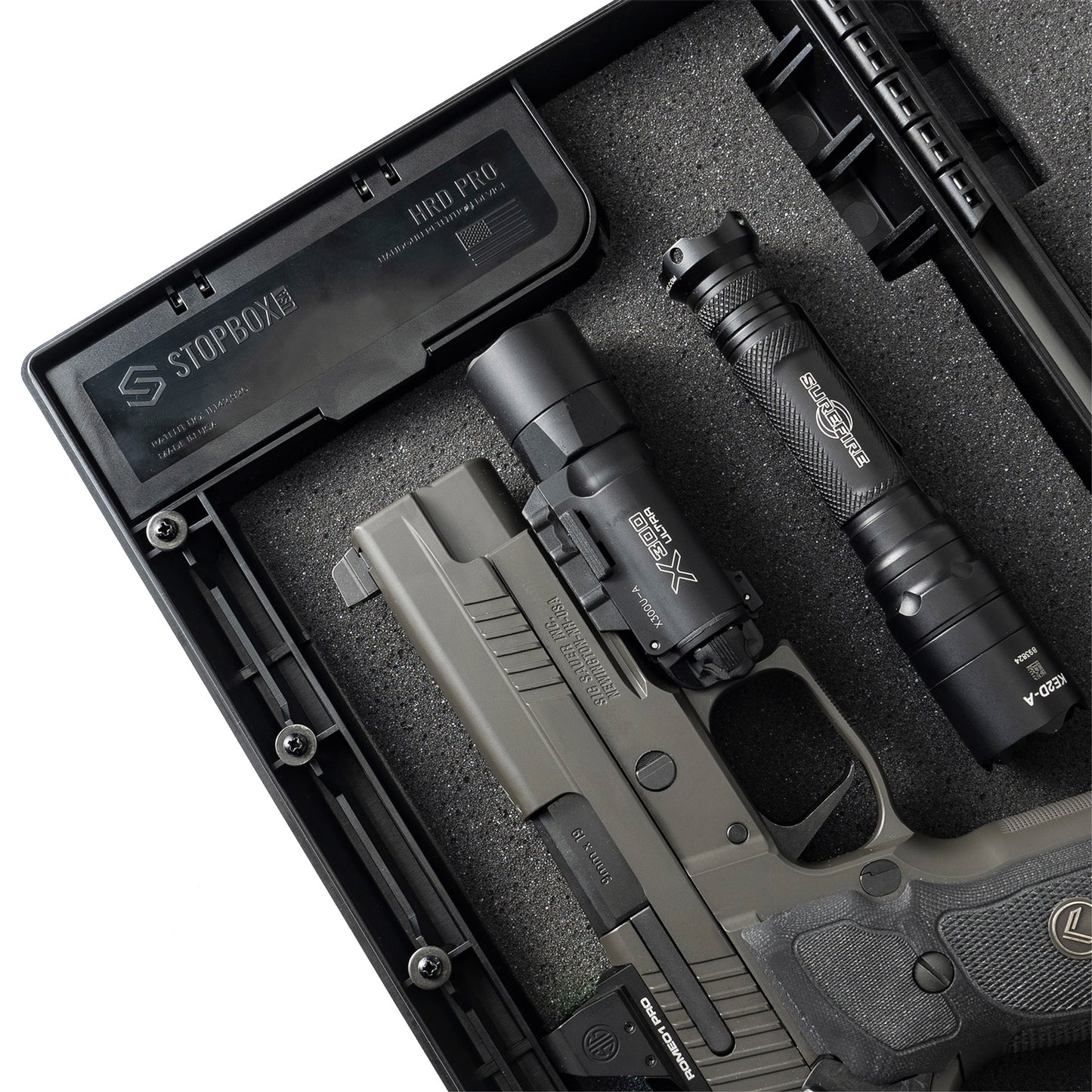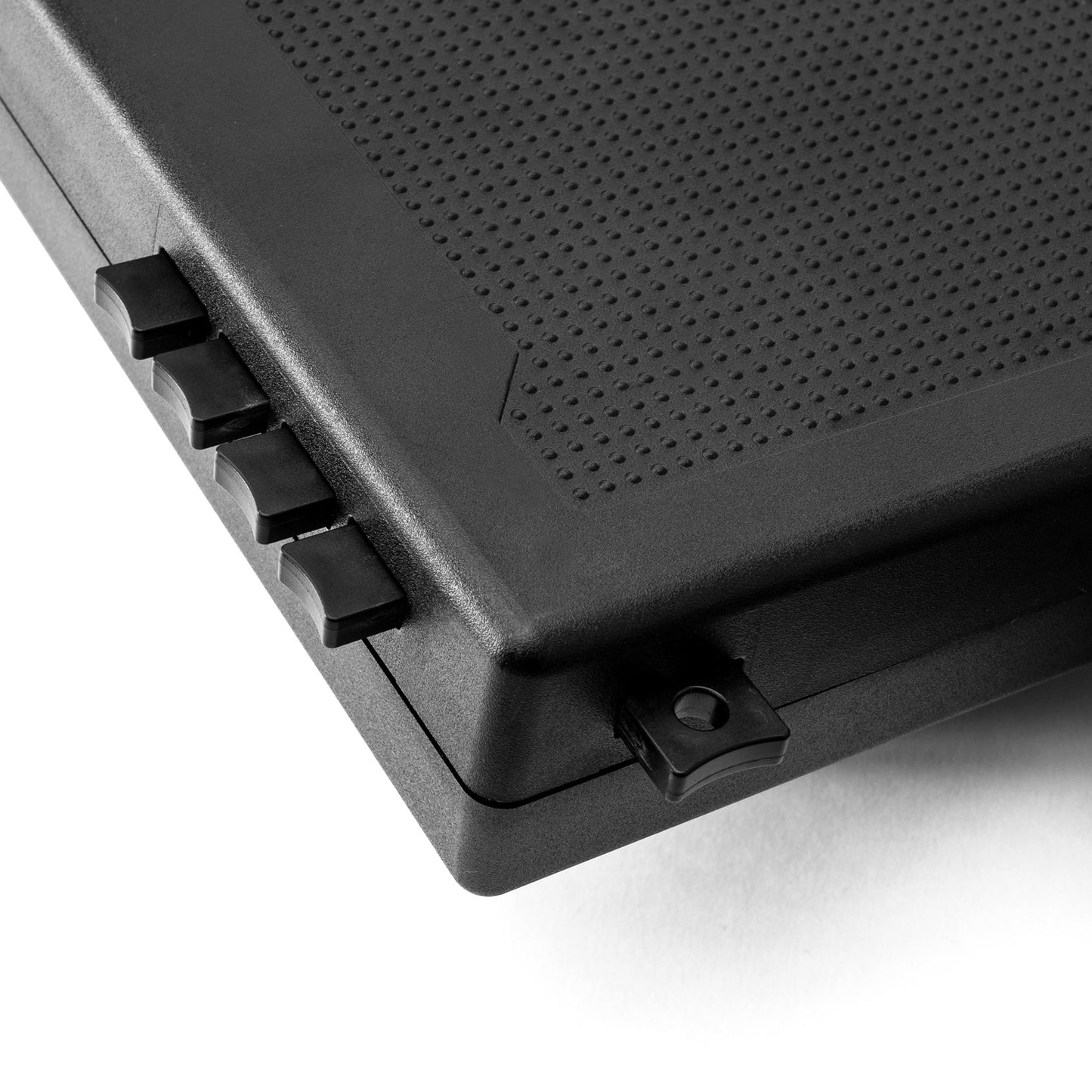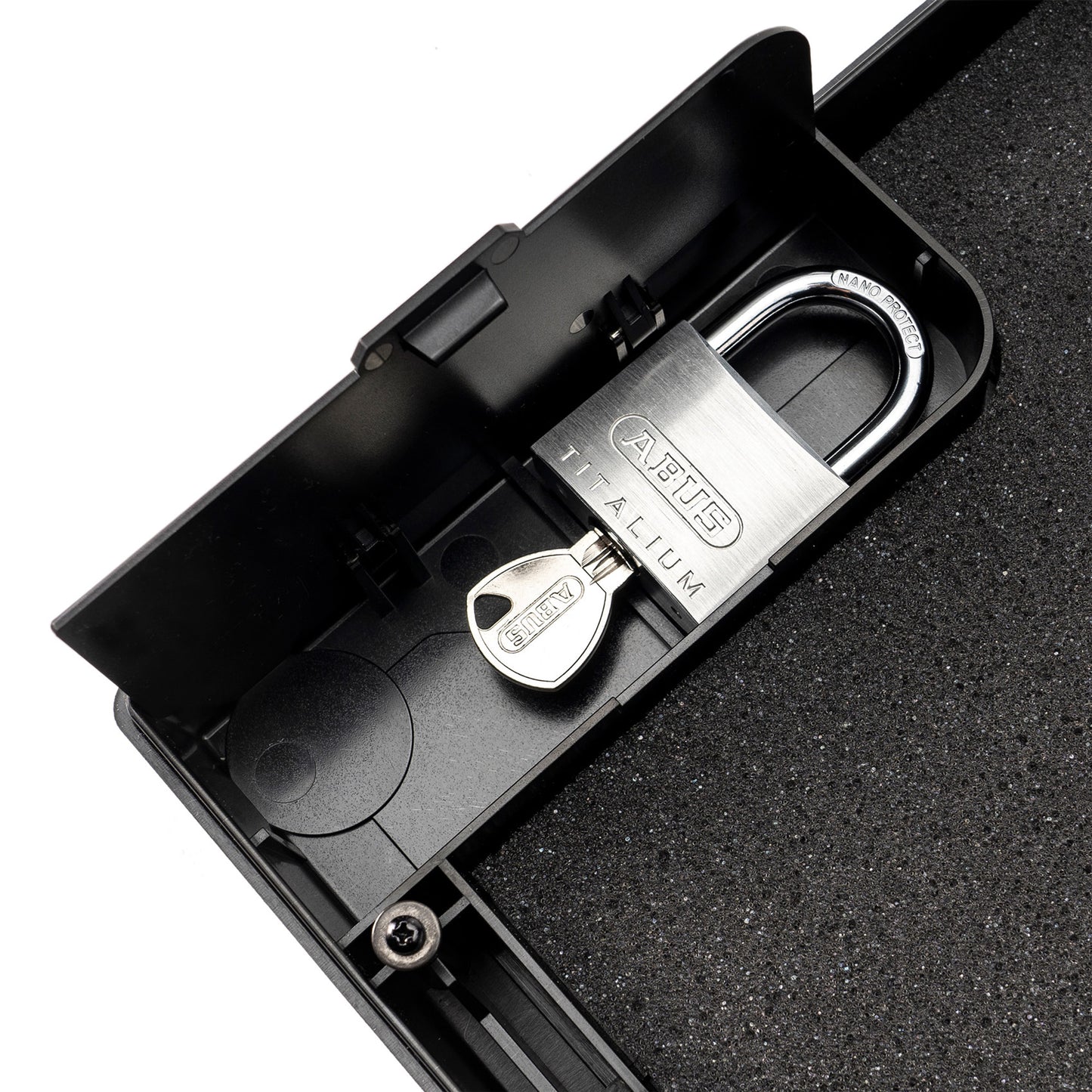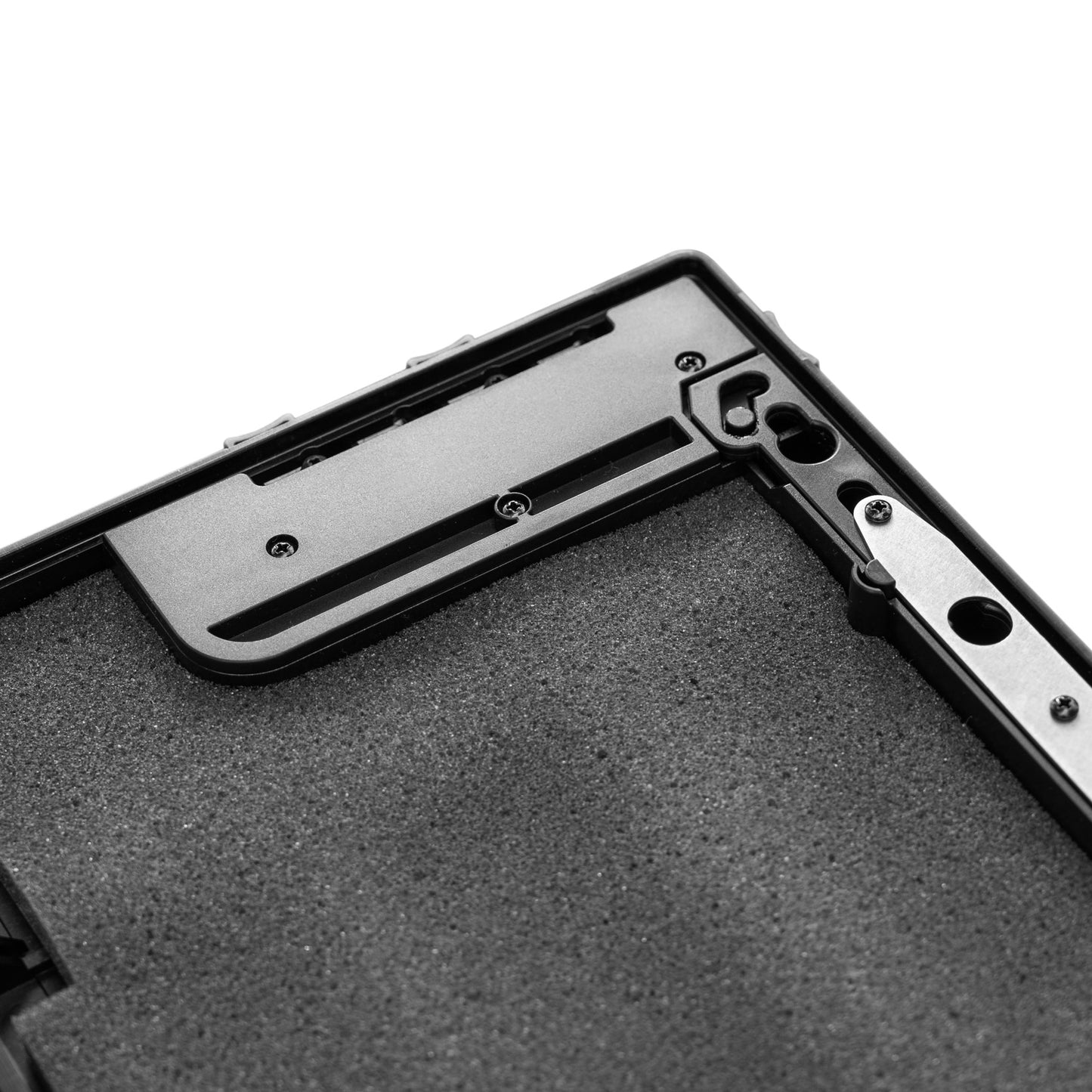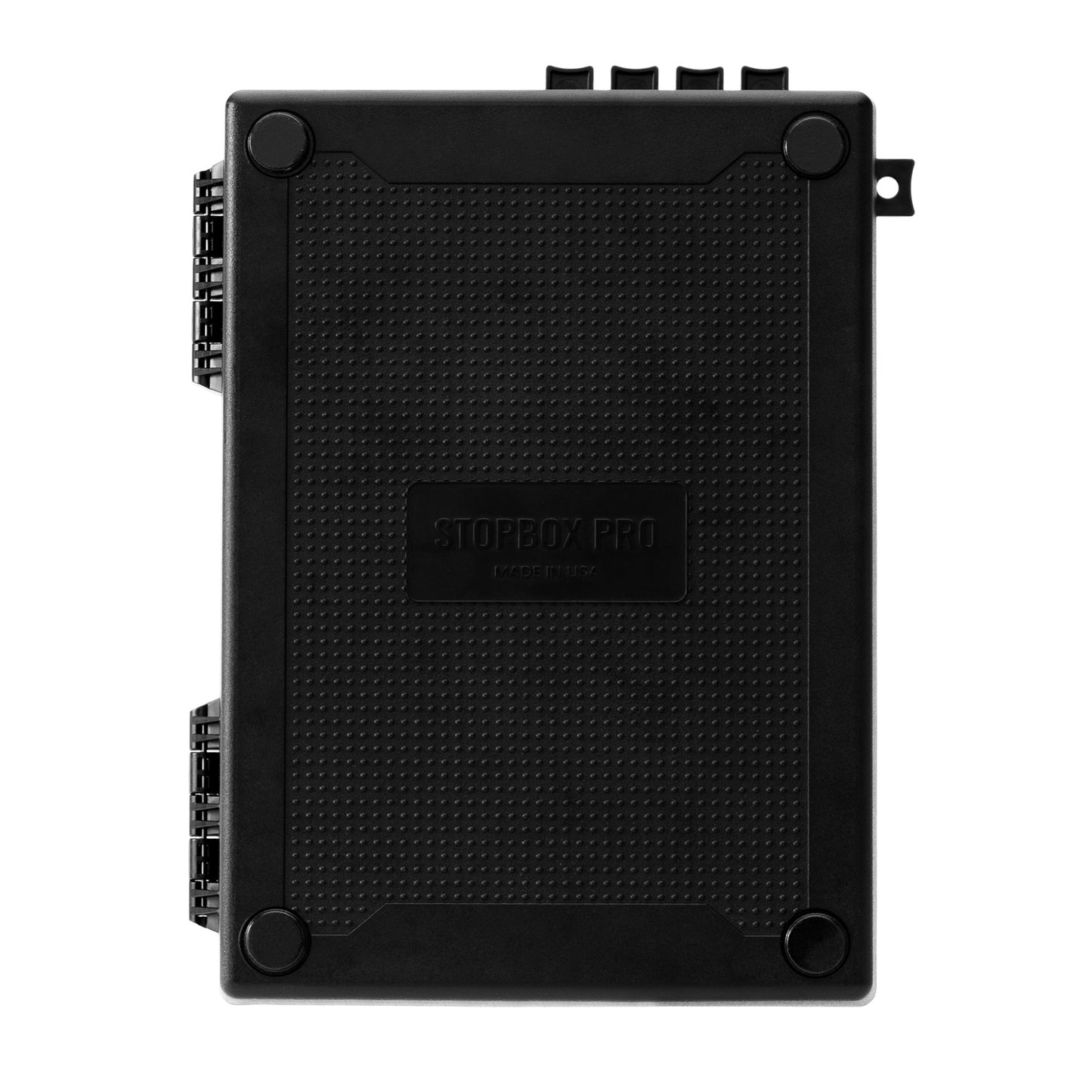 Absolutely love this unit, light weight, portable, strong, easy access when needed.
I recently purchased the StopBox Pro and I must say, I'm thoroughly impressed. This unit has become an essential part of my firearm safety regimen, and I absolutely love it. The first thing I noticed was its lightweight design, which makes it incredibly portable. I can easily move it from my bedside to my vehicle, ensuring that my firearm is secure yet accessible wherever I go.
What stands out most about the StopBox Pro is its strength. Despite its light weight, the unit is exceptionally strong and durable. I feel confident knowing that my handgun is protected in a sturdy, reliable safe that can withstand significant force and impact.
The ease of access is another remarkable feature. The unique hand gesture code lock is a game-changer for me. It allows me quick and easy access to my firearm when needed, especially in high-pressure situations where every second counts. The all-mechanical design means I don't have to worry about batteries or electronic malfunctions, adding to my peace of mind.
In summary, the StopBox Pro is a top-notch solution for anyone looking for a secure, quick-access handgun storage solution. It's light, portable, strong, and offers easy access - a perfect blend for responsible firearm ownership. Highly recommended for anyone seeking a balance between security and accessibility.
Room for two
Love the box and getting my guns out of the drawer. It holds both my pistol (s&w csx) and revolver (ruger lcr 327 fed mag ).
I can't open the box yet
My hand seems to be too small for the set combination and I have recent flair of thumb arthritis so I haven't gotten it open to begin to switch the combinationl
Awesome device!
I've had the other electronic type, and while they are neat...there are other concerns, dead electronics not reading correctly,losing backup keys... stopbox changed all of that, love my pro w all the accessories and options as well. Not going back, I'm gonna order more when I get the chance!!
Great service on the order. Too many offer emails since the purchase. Unsubscribe.